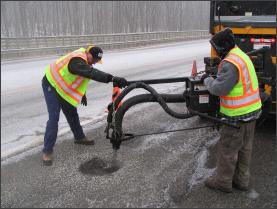 Ever wonder how a pothole is formed and why it seems to reappear from one year to the next? 
The main culprit is water: precipitation in the form of snow, ice and rain seeps into cracks in the pavement surface, freezes, and expands the pavement and underlying roadbed material. When temperatures rise above freezing, the water melts and creates a void or cavity in the pavement. The pothole is created when vehicles drive over the cavity, crack the pavement and loosen roadbed material. The pothole gets significantly worse as more precipitation events and freeze/thaw cycles occur throughout the late winter/early spring months.
The City of Novi Department of Public Works (DPW) works diligently to repair these nuisances on Novi roadways.  Crews are constantly patrolling for and repairing potholes.  DPW's goal is to have reported potholes on major roads patched within 24 hours, and within 2 days for local/neighborhood streets. Community members should note that DPW works in partnership with the Road Commission for Oakland County (RCOC) on the County's major roads in Novi: Grand River Avenue, Novi Road, Ten Mile Road, Twelve Mile Road, Haggerty Road, Eight Mile Road, Napier Road, Pontiac Trail, and Fourteen Mile Road.  
To report a pothole on any roadway in Novi, send a text message to 248-278-7611.  You can also click here to submit a request online.
To report a pothole on one of RCOC's major roads listed above, click here to complete and submit a problem report form.