Fireworks
Kids
Cooking Hints and Tips
Dryer Fires
 
Candle Fire Safety Information
GENERAL FIRE SAFETY
 Matches and lighters should be stored out of the reach of children, in a locked cabinet.
 Places of worship should be equipped with a fire detection and sprinkler system.
 A home should have smoke alarms on every level, outside each sleeping area and inside each bedroom. For the best protection, interconnect the alarms, so when one sounds, they all sound. Test all smoke alarms at least monthly by pushing the test button. Replace smoke alarms when they are 10 years old.
 Plan and practice a home fire escape drill that includes two ways out of every room and an outside meeting place.
CHILDREN & CANDLES
Candles should be out of the reach of children and pets. Young children should never hold a lit candle. Consider providing battery-operated candles for children. A parent should decide when a child is mature enough to light a candle with adult supervision.
Think about using flameless candles in your home. They look and smell like real candles.
Novi Fire Department
LIT CANDLES ARE USED IN RELIGIOUS SERVICES, PLACES OF WORSHIP,
AND IN THE HOME. WHETHER YOU ARE USING ONE CANDLE, OR MORE THAN ONE ON A CANDELABRA, KINARA, OR MENORAH, MAKE SURE YOU TAKE A FEW MOMENTS TO LEARN ABOUT USING CANDLES SAFELY.
CANDLE SAFETY
Candles should be placed in a sturdy candle holder.
 Handheld candles should not be passed from one person to another at any time.
 When lighting candles at a candle lighting service, have the person with the unlit candle dip their candle into the flame of the lit candle.
 Lit candles should not be placed in windows where a blind or curtain could catch fire.
 Candles placed on, or near tables, altars, or shrines, must be watched by an adult.
 If a candle must burn continuously, be sure it is enclosed in a glass container and placed in a sink, on a metal tray, or in a deep basin filled with water.
For more information on fire safety and programs the Novi Fire Department has to offer please go to: The City's Fire Department Page or contact us at 248-349-2162.
FACTS
DECEMBER IS THE PEAK TIME OF YEAR FOR HOME CANDLE FIRES.
MORE THAN HALF OF HOME CANDLE FIRES  HAPPEN WHEN A CANDLE IS PLACED TOO CLOSE TO SOMETHING THAT CAN BURN.
ROUGHLY ONE-THIRD OF HOME CANDLE FIRE START IN THE BEDROOM.
Fireworks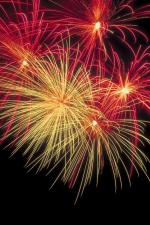 The Novi Fire Department recommends community members enjoy fireworks at a professional event. If purchasing consumer fireworks for private use, the following safety precautions should be considered:
Before using any legal fireworks, read and follow all warning instructions printed on the label.
Never allow young children to play with or ignite fireworks. Adults should always supervise fireworks activities. Sparklers burn at temperatures of approximately 1,800 degrees; hot enough to melt some metals.
Never point or throw fireworks at another person.
Never have any portion of your body directly over a fireworks device when lighting the fuse. Move back to a safe distance immediately after lighting.
Never try to re-light or pick up fireworks that have not fully functioned.
After fireworks fully complete their functioning, place the device in a bucket of water and leave it overnight to prevent a trash fire.
Never carry fireworks in a pocket or shoot them off in metal or glass containers. Keep a bucket of water or a garden hose handy in case of fire or other mishap.
Never use, ignite, or discharge any fireworks while under the influence of alcohol or controlled substances.
Kids
National Fire Protection Agency (NFPA) offers important information and fun activities for kids of all ages!
Cooking Hints and Tips

Cooking Safety: Talking Points


Cooking Safety: Checklist


Cooking Fire Facts & Figures
Dryer Fires
An estimated 2,900 clothes dryer fires in residential buildings are reported to U.S. fire departments each year and cause an estimated 5 deaths, 100 injuries, and $35 million in property loss.
Facts and figures
Clothes dryer fire incidence in residential buildings was higher in the fall and winter months, peaking in January at 11%.
Failure to clean (34%) was the leading factor contributing to the ignition of clothes dryer fires in residential buildings.
Dust, fiber, and lint (28%) and clothing not on a person (27%) were, by far, the leading items first ignited in clothes dryer fires in residential buildings.
54% of clothes dryer fires in residential buildings were confined to the object of origin.
The risk of fire is roughly equal for gas-fueled clothes dryers and electric-powered clothes dryers.
Dryer Safety Tips
Do not operate the dryer without a lint filter. Clean lint filters before or after each use and remove accumulated lint from around the drum.
Make sure that the dryer is plugged into an outlet suitable for its electrical needs as overloaded electrical outlets can result in blown fuses or tripped circuit breakers.
Be sure to remove all foreign items from clothing pockets, especially lighters.
Keep the dryer area clear of combustibles (i.e., boxes or clothing).
Dryers should be installed and serviced by a professional.
Have gas-powered dryers inspected by a professional regularly to ensure that the gas line and connection are intact.
Source: United States Fire Administration National Fire Data Center Volume 13, Issue 7 / August 2012, Clothes Dryer Fires in Residential Buildings (2008–2010).